Meet Our WINEMAKER:
MATT MICHAEL
A University of California, Davis graduate with a Bachelor of Science in Fermentation Science, Matt began his career working harvests in Oregon, New Zealand and California. Upon returning to Northern California, Matt worked for Quivira as Enologist then Assistant Winemaker, focusing on sustainability and biodynamics. In 2005, he became Assistant Winemaker at Sebastiani Vineyards & Winery in Sonoma where he worked closely with Mark Lyon and oversaw many key production elements. His next venture took him to Wattle Creek in 2009 as head Winemaker crafting small lot luxury wines. At Wattle Creek in Alexander Valley, he worked closely with Estate Cabernet Sauvignon, Malbec, Merlot and Chardonnay

—

making the move to Robert Young Estate Winery a seamless transition. Between Wattle Creek and Sebastiani, Matt has spent the past 11 years working with Alexander Valley fruit where he made many award winning wines. His diverse experience and skills complement our winery's portfolio.




WINEMAKING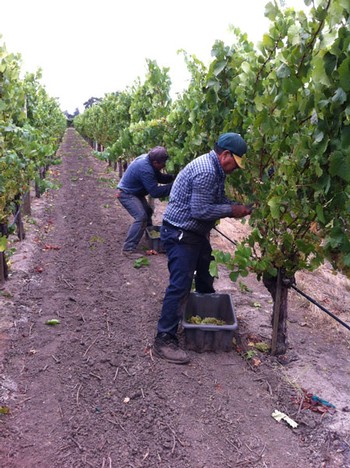 Robert Young Estate Winery selects the finest fruit from small sections of the family vineyards to produce Chardonnay; Scion Cabernet, and Merlot. In those years when certain special sections of Robert Young Vineyards provide perfect fruit, we also make Red Winery Road, Bob's Burn Pile Cabernet Sauvignon, and Big Rock Block Cabernet Franc— all in very small batches of 50 to 150 cases.

Chardonnay is made predominantly from the Robert Young clone #17, a vine developed at the Robert Young family vineyard and acknowledged as one of the most distinctive Chardonnay vines in the world. The grapes are hand picked. The wine goes through primary and full malolactic fermentations in French oak barrels and is aged sur lies (on the sediments) in the same barrel for 10 months. The wine is racked off the lies, returned to the barrel and then aged an additional four months in caves behind the winery. The wine generally has intense aromas and flavors of tropical fruit, toasty oak from the barrels, and a mouth-filling finish. Approximately 2,000-3,000 cases of this wine are made each year.

Scion is a word that refers to the fruiting portion of a vine that is attached to the
rootstock in grafting. Scion also refers to a descendant or child. Both meanings have application to Robert Young Estate Winery Scion wine. Robert Young was the first grower to plant Cabernet Sauvignon in Alexander Valley, and his family has fashioned their winery to feature this grape blended with other Bordelaise varietals taken from the steep hillsides of the ranch. The wine is made in small batches in closed tanks, is regularly pumped over the grape skins during fermentation to extract flavor and color, and then it is put into the caves behind the winery to age for two years. Cabernet Sauvignon has grown to be the grape variety for which Alexander Valley is known best (thanks in large part to Robert Young himself). Scion is the benchmark wine at Robert Young Estate Winery. Approximately 2,000-3,000 cases of this wine are made each year.

Our estate Merlot grows to have intense flavors, often of cherries and plums, and the wine most always has a juicy, full-bodied mouth feel. Robert Young Estate Merlot is grown in well-drained soils in the hills on the western side of the ranch where the Mayacamas Mountains divide Napa Valley from Alexander Valley. This part of the valley is Merlot country, where the days are warm, the nights cool and the crop small. Good exposure to the south, south-east provides the fruit ample sunlight to help ripen the grapes and darken their skins. Fewer than 400 cases of this wine are made each year.