Pioneers in Vineyard Innovation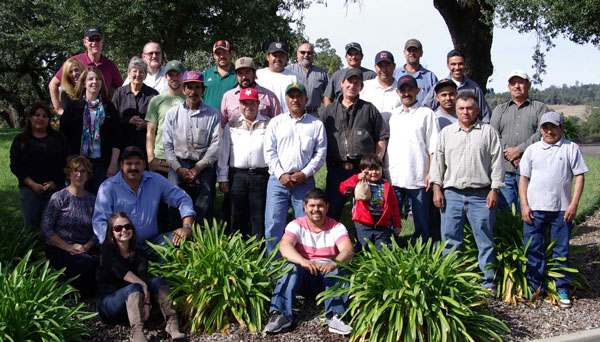 Our farming family 910 Years of Footprints in the Vineyard
Founded on the premise that, "A farmer's footprints are the best fertilizer," Robert Young Vineyards continues to be a leader in cultivating the highest quality grapes using experience and longevity in studying soils and terroir. One of Robert's greatest legacies is that many of the same vineyard staff he hired as young men remain on the ranch. These men, like Robert, pass their vineyard skills from one generation to the next. Loyalty runs so deep that the 39 people who currently comprise the team have collectively devoted more than 910 years to their work at Robert Young Vineyards. This mirrors the Young family legacy of six generations farming the same land over 157 years.
CEO and Vineyard Manager Jim Young inherited his father's integrity as a strategic thinker. With skill and knowledge, Jim is leading his vineyard team into the 21st century of viticulture advancements.
Certified Sustainable
In 2011, Robert Young Vineyards was an early adapter in completing all requirements to become a sustainable winegrape grower by the California Sustainable Winegrowing Alliance. This program advanced the entire California wine industry toward best practices in environmental stewardship, conservation of natural resources, and socially equitable business practices.
Robert Young Clone 17
Recognizing the importance of using clones best suited to a specific vineyard site, the Young family selected and propagated a singular Chardonnay clone in 1985. These many years later the Robert Young Clone 17, noted for its balance of quality while producing an ample crop, remains a proprietary clone at UC Davis and thrives in the Robert Young Vineyards and around the world.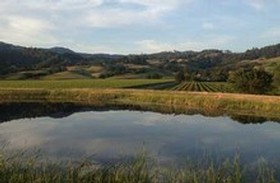 The ranch has five ponds that not only irrigate the vineyards, but are home to many wildlife speciesWater Resources & Energy Conservation
Water is our most precious resource. As diligent farmers, the Young's appreciate the advantage of reservoirs over ground water to efficiently access water from winter rains. Advanced filters have been installed to use reservoir water in drip irrigation systems during dry summer months. Investing in these filters has helped to conserve a significant amount of ground water, as much as three-quarters of the vineyard requirements. Using the natural flow of gravity, it is far more energy efficient to pump from a surface reservoir than from a deep well.
The ranch has five reservoirs on the property, which store water from the winter rains.
The wind machines are used for frost protection whenever possible and conserve reservoir water.
A new electric well pump, powered by solar with a self-regulated 150-horse power motor further reduces the carbon footprint. By maintaining a desired pressure and operating only when needed, the well saves additional energy.
Solar Energy
The Young's are switching from diesel to solar electric. Now, with a 190 KW solar power system, electrical use on all contiguous parcels of the 470-acre estate will be offset. In other words, with virtual net metering from a large ground mount system, most energy usage by Robert Young Estate Winery, vineyards, residences, and all other buildings will mostly be offset by solar energy. This solar power system will immensely reduce the carbon footprint on the estate and save millions of dollars over many years of operation.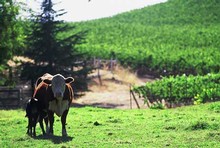 Our cows are a part of our ranch life, but kept in separate paddocks away from the vineyard operationsIn Pursuit of Balance
Of the 470-acre Robert Young estate, only 287 acres are planted to vine. This healthy balance allows for open space, wildlife corridors, pasture land, and native oaks & plants to thrive. The 21 grass-fed, crossbred Angus and Hereford cows provide delicious eating and keep grasses on the ranch at desirable lengths, which reduces wild fire danger.
Pressure Chamber Unit
Determining the health of the vines throughout the growing season is essential. A pressure chamber unit or pressure bomb helps to measure the stress a grape vine is under at any time. This device allows Jim and his team to know when to begin irrigation and when to re-irrigate. By pinpointing specific vines that are dry, precious water is being saved and grape quality improved as a result of not over-irrigating.
Robert Young Legacy
The geologic history of this area of the Alexander Valley in Healdsburg, Sonoma County began about 150 million years ago. As the family integrates the sixth generation of Young's to work the land, with the natural ecosystem more fragile than ever before, it is important to remember Robert's farming advice. "We are blessed to live on and farm land that is very, very special. I hope that future generations will treat the land well and understand that by being good stewards of the land will continue to provide us with abundance and the highest quality crops."