Robert Young Vineyards
Alexander Valley
Today the 470-acre Robert Young Estate is among the most honored winegrowing properties in the world. The ranch is planted with 287 acres of benchland and hillside vineyards, containing three main grape varieties: Cabernet Sauvignon, Chardonnay and Merlot. Nine other varieties thrive on the ranch in lesser quantities. Vineyard contains 9 specific soil types that contain sandstone, shale, oceanic crust and sediment, each providing well-drained and uniquely diverse beds for the vines.
The climate on the estate during growing season features warm afternoons and cool nights with very little rain. Subtly variations of climate occur in different vineyard blocks on the ranch. Our vineyards are a bit of an anomaly in that we are able to grow highly sought-after Cabernet Sauvignon in one location, and exquisite Chardonnay in another. Owner and Winery Founder, Jim Young, cites another climatic feature: "Our ranch tends to pick up more heat than neighboring properties because it's tucked against the hills."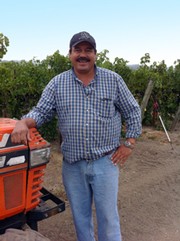 Jose Manual Guzman - Ranch Vineyard ManagerRobert Young Vineyards follows the growing philosophy that the best wine is made from a vine in which the amount of shoot and leaf growth is balanced against the amount of fruit. Beginning in 1993, to help achieve these conditions on the vines, the Youngs began experimenting with Scott Henry and then Smart Dyson pruning and trellising systems. Smart Dyson has been a particular success because it features canes that are trained up and down on the vine, promoting canes of the same length and therefore uniformity in bloom, fruit set and berry ripening. Rigorous thinning of the grape crop is another way Robert Young Vineyards influences grape quality. At a strategic moment in the maturation of the grapes, when the berries possess all the cells they will produce, our crew thins the crop by up to one-half. Thinning reduces yields to one bunch per shoot, or six to ten pounds per vine. Vines concentrate growth and ripening on the remaining fruit, making it more flavorful.
It's our philosophy that great wines aren't made in the winery, they're grown in the vineyard. Dick Arrowood, our founding winemaker explained, "There is an enological consistency to the grapes coming from specific sections of Robert Young vineyards. It derives from the Youngs' dedication to consistent and high quality viticultural practices on a per vine basis."
---
Additional Viticultural Practices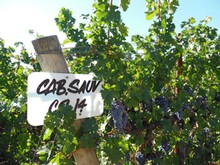 Hillside Cabernet Rootstock Diversity: Robert Young vineyards use seven different rootstocks, matched to the soil type and depth and are designed to control growth and vine vigor.
Hillside Vineyards: Shallow soils, various exposures and ample sunlight on the hillsides of the ranch are ideal for the cultivation of our classic Bordeaux varietals.
Cover Crops: In the fall, a green manure, or nitrogen-fixing crop such as Austrian Peas, barley, and bell beans, is planted in the vine rows. Prunings are thrown into the rows in the winter. In the spring these materials are tilled under to feed the soils and maintain sustainability.